LG 47LM670 review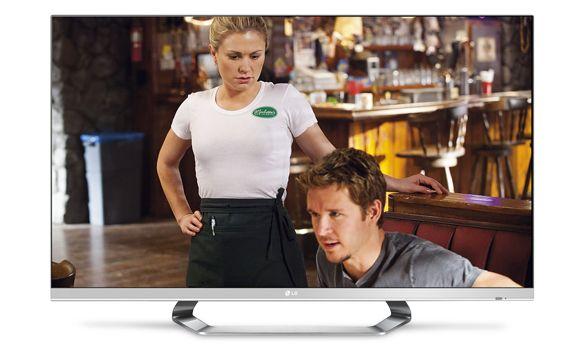 Awesome Smart TV experience complements accomplished hi-def performance
You would be forgiven for being seduced by the 47LM670's delightful floating ribbon stand and gorgeous slip of a bezel that virtually disappears when the screen is switched on. But at the same time you may be wondering if the 47LM670 is all fur coat and no knickers. After all, its picture processing is perfunctory and the screen uses Passive 3D technology. Sometimes, though, it pays to keep things simple, and whilst the 47LM670 is not an unqualified triumph it does succeed in delivering better than expected results.
A nicely designed remote control combines with a slick, contemporary-looking operating system to make the screen a pleasure to use, particularly the Quick Menu that summons up a colourful dashboard of widgets along the bottom. LG's Smart TV portal is chockablock with video-on-demand apps and there's a secondary 'Magic Wand' remote with a pointer that makes surfing the web less laborious than with a traditional handset.
The screen uses local dimming to control its rather uneven edge-lit LED lighting. Like the UK's springtime weather, it's clouds that are the 47LM670's problem. Happily, most of the time you won't notice them, but dark sequences such as Mad Men's end credits give the light pooling game away.
You can adjust the LED backlighting and dynamic contrast. Simply switching the black level to low gives discernibly better results in terms of contrast. Colour reproduction is rarely a problem on LED TVs and I found the 47LM670's palette accurate and enjoyable, particularly in the faithful nature of skin tones regardless of the source. For a more demanding experience, the screen gives you access to its gamma setting, plus there are EBU and SMPTE colour gamut standards.
Standard-definition channels are hard to recommend at the best of times but the 47LM670's built-in tuner yields better than average Freeview images.
Motion carried
There might not be any high-frequency image refreshing on offer but moving images do not trip up the 47LM670 in the same way as they do some other large TVs. Of course, the motion resolution drops so that a large amorphous area such as a football pitch sometimes looks a bit mushy, and a fast-moving ball or F1 car will look blurry, but there is none of the jarring jerkiness that many basic LCD screens exhibit.
Things are just as satisfying with Blu-ray playback, where my test platter, No Country For Old Men, is displayed with no more than a hint of judder. Other attributes on the money include minimal MPEG noise, excellent colours and rock-solid black levels. What is the screen's most annoying weakness, however, is a lack of shadow detail that can only be overcome by cranking up the brightness and diluting the black until it starts to grey out.
As far as 3D goes, stick to Blu-ray rather than Sky and you'll enjoy fairly decent, flicker-free pics of an acceptable resolution (this is a Passive display, remember, so you lose detail horizontally). The ultra-light specs are both comfy and affordable – and you even get five pairs included with the set.
---
HCC VERDICT
LG 47LM670
Price: £1,500 Approx
Highs: Gorgeous design; slick OS; solid, judder-free images
Lows: Lack of shadow detail; some backlight leakage; poor motion resolution
Performance: 4/5
Design: 5/5
Features: 4/5
Overall: 4/5
---
Specifications
3D: yes Passive
Full HD: yes 1,920 x 1,080
Tuner: yes Freeview HD, CI slot
Connections: 3 x HDMI; 3 x USB; Ethernet; component; composite; optical digital audio out; D-Sub PC in; Scart
Sound: 2 x 10W
Brightness: N/A
Contrast ratio: N/A
Dimensions (off stand): 1,063(w) x 628(h) x 33(d)mm
Weight (off stand): 15kg
Features: Wi-Fi built-in including WiDi; dual-screen gaming mode; Triple XD Engine; 7 modes (Intelligent sensor, Vivid, Standard, Cinema, Game, isf Expert1, isf Expert2); PVR Record (to external USB storage device); DLNA Smart Share; Dolby Digital Decoder; Infinite Surround; Clear Voice; e-Manual; 2D-3D conversion; AN-MR300 magic remote control; Skype compatible; Smart Energy Saving; Smart TV portal