June issue on sale now!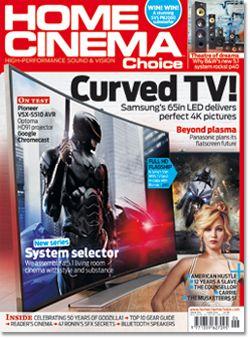 Home Cinema Choice 234 is available to buy in shops and online - and here's what's in it...
Curved TV!: Get ahead of the curve with our review of Samsung's dazzling UE65HU8500 4K TV
System selector: In the first part of our new series we assemble a stylish 5.1 system on a budget
Beyond plasma: Panasonic opens its doors to HCC and reveals its plans for a flatscreen future
Theatre of dreams: Find out why Bowers & Wilkins revamped 600 Series speakers rock with our in-depth review.
Here be dragons!: Visual Effects Supervisor Christian Manz reveals the secrets behind 47 Ronin's monsters.
Win an SVS subwoofer: blag an SVS PB-2000 subwoofer worth £750 and give your system a bass boost!
Plus: reviews of T+A's Caruso Blu BD deck/hi-fi system, Sony's top-end KDL-55W955 55in TV, Tannoy's uprgraded Mercury VI 5.1 loudspeaker package, Pioneer's slim-line VSX-S510 AV receiver, Optoma's HD91 LED projector, Google Chromecast, REL's S5 premium 12in subwoofer and more.