Humax HDR-1000S (500GB) review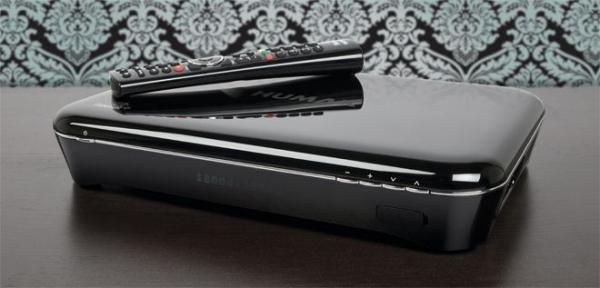 Freesat+ PVR takes on YouView with advanced Free Time EPG with integrated catch-up TV.
Just as it recently had the 'honour' of producing the first YouView box, Humax's latest Freesat+ HD PVR is the first to carry Freesat's new 'Free Time' EPG. Free Time receivers from Sagemcom, Manhattan and Philips are set to appear in the coming months, as is a second-screen remote control app for mobile devices. Freesat has even said that Free Time TVs may follow.
Much like YouView or Virgin Media's TiVo, 'Free Time' allows for backwards as well as forwards browsing up to seven days, enabling the user to 'jump' to watching shows available on catch-up TV players. Currently only BBC iPlayer and ITV Player are supported with 4OD Player and Demand 5 due to be added before the end of the year.
The HDR-1000S has two tuners and comes with either a 500GB (as tested here) or 1TB hard disk. Recording capacity is rated at 300/600 hours of SD or 125/250 hours of HD respectively. The 1TB unit only costs an extra £20 more - I'd suggest always choosing that option.
Front and rear-mounted USB ports can be used to attach storage for media playback or a Humax dongle for Wi-Fi. Also on the rear are dual satellite inputs, an HDMI v1.4 output, an RGB-capable TV Scart and a composite video output, together with an optical S/PDIF (supported by Dolby Digital Plus/Pulse decoding) and stereo phonos. On the right sits a common interface slot for pay TV (not that Freesat offers it at present).
The remote is near enough identical to that found with Humax's YouView box and just as likeable – shiny in finish and easy to grip.
Setup options are pretty standard for a Freesat box and include an option to configure basic AV settings (1080p upscaling is supported). For those with advanced dish setups or a desire to receive channels not featured on the Freesat EPG, the box can be switched to 'STB mode'. Note, though, that non-Freesat channels don't get an EPG and cannot be recorded.
The colourful Free Time GUI is as just as slick as that found on Humax's YouView box. Menus have a classy hi-res appearance and are often tastefully imposed over the selected broadcast. Effective use is made of channel logos and thumbnail images for shows, and newbies will welcome the novel inclusion of short Help videos.
The Free Time EPG can be used to view now-and-next or seven days of programme information in grid form, sortable according to genre or type. Selecting 'Earlier' takes you to a list of what's available on catch-up, either from earlier in the day or the previous seven days. You can also search for shows by name.
A separate Showcase menu displays highlights of what's 'On Tonight', available on-demand or coming up for the week ahead.
Recordings and reminders can be scheduled from the EPG, or you can set recordings via the programme information bar, Showcase menu or using a manual timer. Automatic series recording is supported.
Recording flexibility
Naturally, two channels can be recorded at once, including while playing a recording/using the box's smart features. Recordings can be skipped through at up to 32x normal speed and played in slow motion (handy for keeping up with Jamie's 15-Minute Meals). A live pause buffer (lasting up to two hours) kicks in automatically when you switch to a channel.
BBC iPlayer appears in its most up-to-date 'lean back form' and includes HD streaming. ITV Player seems clunky by comparison and a few shows failed to play – but I suspect the fault here lies with the broadcaster.
Bonus media functionality includes media playback from USB drives or DLNA/UPnP-networked devices of most popular file formats – the box had no trouble playing those in my library or detecting my networked PC running Windows 7. Also featured is Humax's web-enabled TV Portal, but this is a disappointment at present, offering just Flickr and Picasa photo browsing, [email protected] (Wikipedia basically), Teletext Holidays and a Humax Support section.
The picture performance of the HDR-1000S via HDMI is sharp and natural-looking for both SD and HD sources, and this fidelity is maintained for recordings. Scart pictures are softer by comparison but I doubt many will be relying on this option. Pleasingly, I experienced no glitchiness or failures with recordings during my audition.
While TV Portal is still a work in progress, as a Freesat PVR this is a worthy successor to Humax's Foxsat-HDR. As for Free Time, BBC iPlayer and ITV Player are currently available on some 'standard' Freesat HD boxes, and 4OD and Demand 5 are conspicuous by their absence. Still, it's as well-implemented and accessible as you could hope for – and, in tandem with Humax's neatly-styled hardware, makes for an appealing upgrade.
---
HCC VERDICT
Humax HDR-1000S
Price: £280 Approx
www.humaxdigital.com/uk
Highs: Smart-looking design and solid build; Free Time EPG works well; media playback capability
Lows: No Demand 5 or 4OD yet; TV portal needs more apps; Wi-Fi not built-in; 1TB version only £20 more expensive
Performance: 4/5
Design: 4/5
Features: 4/5
Overall: 4/5