The Hound of the Baskervilles (1959) Blu-ray review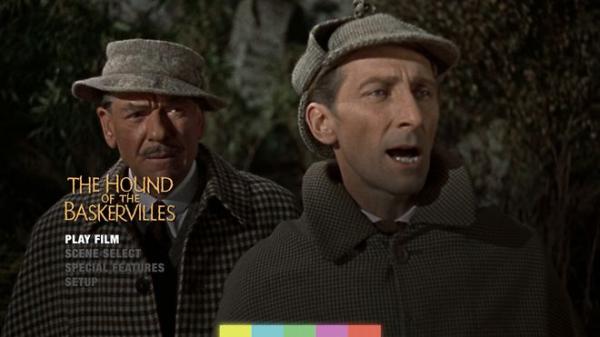 This well-specified hi-def package should leave Hammer fans howling with delight
During the late 1950s Hammer Film Productions reinvented itself as the UK's leading purveyor of cinematic shockers with The Curse of Frankenstein (1957) and Dracula (1958). But in 1959 the studio took a brief break from raiding Universal's catalogue of classic monsters to tackle one of Britain's best-loved literary icons – Sherlock Holmes.
Not that this meant it was leaving the world of Gothic horror behind. Indeed, in addition to rattling through most of the key plot points from Holmes's most famous adventure, Hammer's pacy 87-minute adaptation of The Hound of the Baskervilles also finds time for a grisly prologue whose barely constrained sadism wouldn't feel out of place in one of its more lurid frighteners. The film also gave Hammer the opportunity to reunite Peter Cushing and Christopher Lee on screen as Sherlock Holmes and Sir Henry Baskerville. Meanwhile André Morell (TV's original Quatermass) gives a far more serious (and effective) interpretation of Watson than the buffoonish version popularised by earlier Holmes flicks.
The only real downside to the whole endeavour is the titular Hound. Wisely kept off-screen until the film's climax, it looks less like a ferocious Hell beast and more an amiable Great Dane wearing a silly mask. Which, of course, is exactly what it is. Due to this surprising mis-step, The Hound of the Baskervilles will never be remembered as one of Hammer's finest. But even so, for our money it remains a thoroughly unique and enjoyable take on the iconic Sherlock Holmes adventure.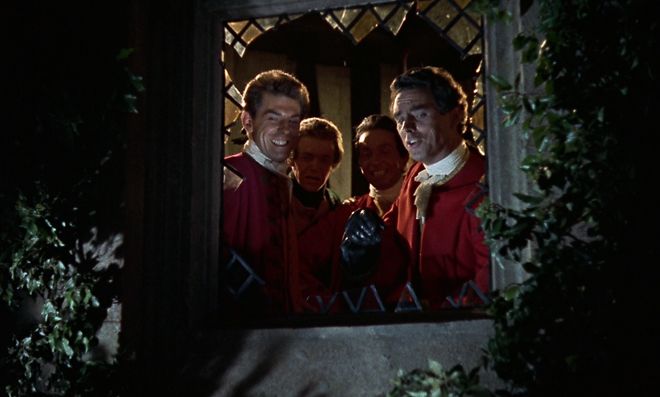 Picture: Arrow's Blu-ray rendering of The Hound of the Baskervilles looks very similar to its series of Corman-Poe titles, which were of a similar vintage and also came from HD masters supplied by MGM. While grain is rather unrefined (just check out skies above the coach on journey to Baskerville Hall in Chapter 4) colours are robust and blacks are stable.
Picture rating: 3.5/5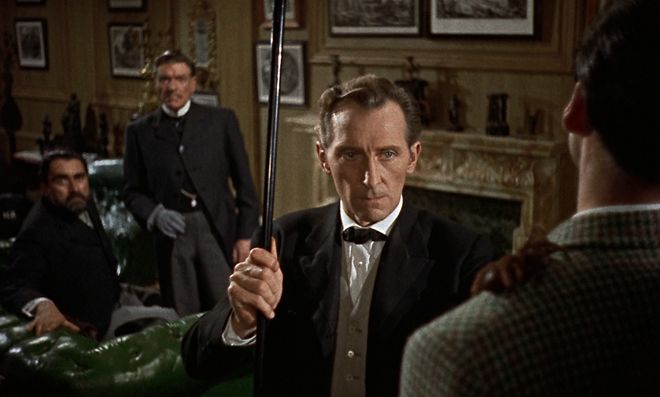 Audio: The disc's LPCM mono soundtrack delivers exactly what you'd expect from a film that will be turning 60 in a few years. So, while dynamic range is rather limited, the dialogue is cleanly rendered and James Bernard's score sounds magnificent.
Audio rating: 3.5/5
Extras: A fascinating chat-track by Hammer experts Jonathan Rigby and Marcus Hearn; an isolated music and effects track; a half-hour Making of… featurette; a profile of André Morell; the 1985 doc The Many Faces of Sherlock Holmes; an archival interview with Christopher Lee; three extracts from the book read by Christopher Lee; the trailer; and a photo gallery.
Extras rating: 4/5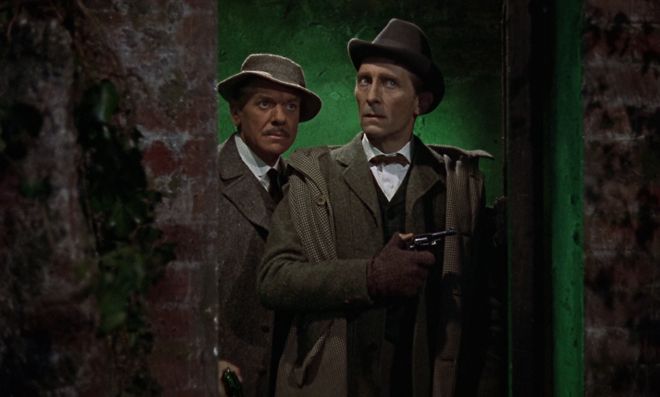 We say: Any Holmes or Hammer fan would have to be barking mad not to pick up this Hound… on Blu-ray
The Hound of the Baskervilles, Arrow Video, Region B BD, £16 Approx
HCC VERDICT: 3.5/5