Home Cinema Choice 274 on sale now!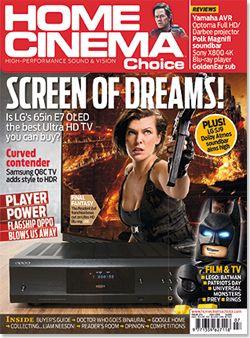 LG's 67inch OLED 4K TV! Oppo's flagship UHD Blu-ray player! Ray Harryhausen! It's all here!
LG sets out to prove that OLED technology has what it takes to make it in a HDR world with its new and improved 67in OLED TV. We find out if it really is the best Ultra HD display money can buy! The 4K fun continues with Oppo's new feature-packed flagship Ultra HD Blu-ray deck. Pricy but peerless, we reveal why this 4K powerhouse deserves a place at the heart of your home cinema set-up.
With the three classic Sinbad movies making their UK Blu-ray debut this month, we celebrate the genius of stop-motion effects pioneer Ray Harryhausen, looking back across his astonishing career and charting his most memorable movie monsters.
Each year the audio industry migrates to Munich to unveil its latest killer kit at the High-End Show – and HCC is here to guide you through the best the show had to offer, including new speaker arrays from KEF, DALI and Wharfedale, plus a 50in subwoofer!
Also: Win a pair of Oppo PM-2 premium headphones worth £700! Samsung reveals why it thinks that the future of TV lies in design innovation rather than image technology; Simaudio spills the beans on its new ultra-high-end 888W monoblock amplifier; We talk to BBC sound engineers about the special 'binaural' instalment of Doctor Who; LG aims high with its SJ9 Dolby Atmos soundbar; Sony's debut Ultra HD Blu-ray deck serves up sensational images and excellent audio; Samsung's QE55Q8C QLED TV is a curved contender; Resident Evil: The Final Chapter takes a bite out of 4K Blu-ray; plus all of the usual news, opinion, competitions and Blu-ray/DVD reviews.