Home Cinema Choice 270 on sale now!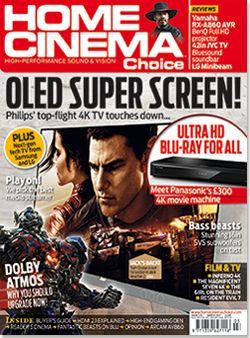 Philips 4K OLED TV! Panasonic UHD Blu-ray deck! Five years of Dolby Atmos! It's all in here!
Taking centre stage on this month's cover is Philips' impressive new top-flight 55POS901F/12, the brand's first OLED 4K flatscreen. Of course, if you're in the market for an Ultra HD TV then you'll probably also want a 4K Blu-ray player, too. Which makes it pretty handy that we also taken an in-depth look at Panasonic's more affordable DMP-UB700 Ultra HD Blu-ray deck in this very issue.
Elsewhere we take a look at Samsung's HDR-optimised QLED screens and LG's Nano Cell displays in an effort to work out which new TV tech is best for you. We also celebrate five years of Dolby Atmos and reveal why you have to add the object-based audio format to your home cinema set-up.
With a new version of HDMI (v2.1) on the way, HCC investigates what features this latest update adds to the existing specifications and reveals whether or not home cinema fans should be concerned about another the prospect of another upgrade to everyone's favourite AV connector.
Also: Sky discusses its plans for a broadband-delivered TV service; Panasonic shows off its amazing new HDR LCD flatscreen panels; SVS's stunning PB16-Ultra and SB16-Ultra ported and sealed 1,500W subwoofers; Bluesound's high-end Pulse Soundbar; BenQ's step-up single-chip Full HD DLP projector; Sub-£100 media streamer grouptest; Yamaha's versatile 7.1-channel RX-860 AV receiver; Win a Tannoy TFX 5.1 sub/sat system; plus all of the usual news, opinion, competitions and Blu-ray/DVD reviews.