Harman Kardon BDS470 review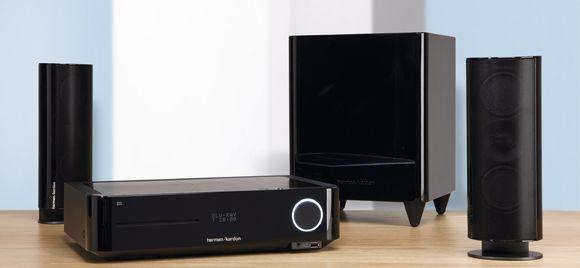 Designer 2.1 AV system gets a 3D boost - but is it enough to compete in a crowded market?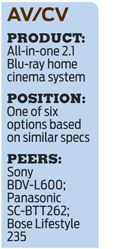 With a turnover exceeding $4bn and a portfolio of brands that includes AKG, JBL, Infinity, Lexicon and Mark Levinson, Harman is not exactly small potatoes in the deep fat fryer of consumer electronics. But in this part of the market – all-in-one systems – its Harman Kardon sub-brand has to compete against the AV giants of Samsung, LG, Panasonic and Sony. And because it can't match those box-shifters on price or features, it needs to out-do them in performance and desirability.
This BDS470 is just one of a new six-strong lineup of all-in-ones based around the 3D-capable BDS 270 player/receiver. The BDS470 marries the three-channel BDS 270 with the HKTS 200 speaker package, itself comprised of two HKTS TS60 satellites and the powered HKTS 200SUB subwoofer. Other configurations are available; for surround sound you have to migrate towards packages based on the six-channel BDS 570 player/receiver. You can also opt simply for the £600 BDS 270 or £750 BDS 570 and add your own speakers.
The design of the main unit is compact and minimalist, apparently in part to satisfy the demands of mothers who are fed up with children randomly pressing the buttons of home entertainment gear with sticky fingers. The fascia is adorned by a disc slot (no breakable tray here), two-tier LED display, volume knob, USB input and headphone jack. There are still power and eject buttons on the top for keener kids to seek out, but overall it's a very smart, solid piece of kit. The connections on the rear are of equally high quality, including gold-plated, full-size binding post speaker terminals.
The provision of three HDMI inputs is ample, complemented by an ARC-equipped HDMI output.
It's a sign of the times that 3D playback has been added to the range but anyone looking for internet TV and networking features faces disappointment. Multimedia functionality extends to playback of files stored on a USB drive. That and HK's 'The Bridge' iPod dock interface.
Speakers with history

The HK TS60 speakers here have been retained from last year's model; sleek-looking, sturdy cylinders with dual 3in midrange drivers and a 1in tweeter, both derived from pro JBL monitors. The stands detach in order to thread the supplied speaker wire into the spring-loaded terminals.
The 8in down-firing subwoofer has the characteristics of a 10in model, says HK, thanks to some DSP trickery. On the sub's rear are line-level inputs, phase reverse, a volume dial and a rather superfluous Bass Boost button.
Load times are reasonable and the resultant image quality is excellent. Avatar (2D and 3D) on Blu-ray is reproduced with all the eye-popping clarity I've come to expect, looking as dynamic and vigorous as ever. Colours are accurate and skin tones realistic. Standard-def DVDs aren't upscaled but in the hands of a decent screen my old fave The Long Good Friday looks clear and robust.
Audio-wise, the challenge for the BDS 470 is to serve up a convincing soundstage from just three speakers with two processing options: stereo and Dolby virtual surround. The latter is noticeably fuller but in no way an approximation of genuine 5.1. For what it is though, the results are excellent. Monsters Vs Aliens (BD) has some cleverly crafted disparate effects that are delivered with effortless impact by the satellites. These blend perfectly with low-end rumbles and crashes from the size-defying subwoofer. Dialogue is equally well handled, proving the system's suitability for use both with movie soundtracks and everyday TV viewing.
The system also does a sterling job with music. A DTS-HD live recording of Talking Heads' performing Life During Wartime has astonishing punch and lucidity, while a 1509Kbps DTS-HD recording of Mozart's Violin Concerto No 4 in D Major by Marianne Thorsen is simply exquisite.
Overall, Harman Kardon's BDS 470 is more than just a design statement. Its assured performance means it firmly deserves a place in the higher echelon of 2.1 systems. I expect the 5.1 version to be even more impressive.
---
HCC VERDICT
Harman Kardon BDS470
Price: £650 Approx
Highs: Stylish design; effortless audio performance; attractive menu system; decent connectivity
Lows: Illegible buttons on remote control; basic multimedia features; unconvincing pseudo surround
Performance: 4/5
Design: 5/5
Features: 4/5
Overall: 4/5
---
Analysis
GUI: HK's onscreen display features crisp HD graphics and a logical layout
Power consumption: We measured an average power consumption of 55W – but remember the subwoofer will add to this. Standby measured 1W
Killer feature: The trio of HDMI inputs means the BDS 470 can be used with plenty of other sources
---
Specifications
3D: yes
Upscaling: no
Multiregion: no Region B BD, R2 DVD
Connections: 3-in, 1-out HDMI with ARC; 1 x component video; 1 x Ethernet (BD-Live only); 2 x optical digital audio input; 1 x coaxial digital audio input; 1 x sub output; 1 x sub trigger connector; 1 x remote IR in; 2 x stereo phono inputs; 1 x stereo phono output; The Bridge (iPod dock) connector; FM antenna; 1 x USB; 1 x headphone jack
SACD/DVD-A playback: no/no
DTS-HD/DolbyTrueHD decoding: yes/yes
Profile 2.0: yes additional storage required for BD Live
Claimed power output: 2 x 65W
Dimensions (main unit): 102(h) x 401(w) x 260(d)mm
Weight (main unit): 6.4 kg
Features: 8in active sub with 200W power; 2 x 75mm mid-range drivers, 1 x 25mm tweeter; playback of DVD+R/+RW, DVD-R/-RW, audio CD, CD-R/RW discs; USB flash memory playback (FAT32 only); JPEG, GIF, PNG, MP3, WMA, AAC, AVI, AVCHD, MPEG-1 (layer 1); MPEG-2; DivX and XviD file support