Finlux 55S6040-M review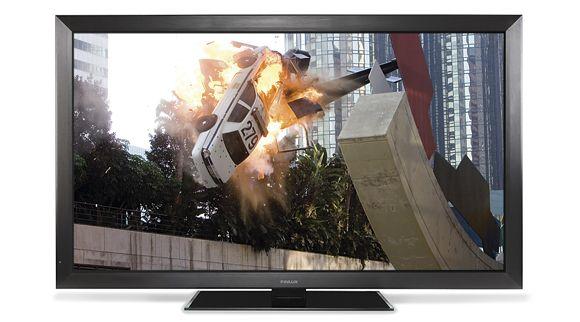 Finnish brand kicks off its latest attempt on the UK market with this ultra-cheap 55in TV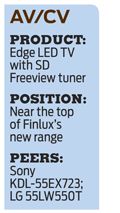 Hailing from Finland (as its name suggests) the Finlux brand isn't entirely new to the UK. It's entered and left again on more than one previous occasion. But with its latest push, Finlux (now actually owned by Turkish outfit Vestel) is seemingly making its most concerted effort yet to establish a firm TV foothold on our shores.
Its latest range is extensive and ambitious, a fact well illustrated by the 55S6040-M: a 55in TV that's as far away as you can get from the small 'supermarket shelf-fillers' you might expect the brand to ship.
Less surprising is Finlux's decision to catch punters' eyes by selling its TVs on the cheap. The 55S6040-M's £800 price tag is extraordinarily low, making it a potentially massive bargain for those desperate for some bigscreen action.
It rather looks its money, though, thanks to the hefty width of its bezel and a fairly nondescript design. However, as my aching back confirms, it's sturdily built.
Connectivity doesn't scream 'budget', either. There are four HDMIs – the same amount found on high-end TVs – and two USB ports able to spin files and record from the set's (non-HD) Freeview tuner.
Love Hertz
The 55S6040-M is predictably short of picture adjustments, and its menus are basic. There is a 100Hz system, though. This can be turned off if you wish, but works surprisingly well, adding clarity to standard-definition fare without making the picture look too processed. I personally wouldn't use it for HD movie viewing, partly because the screen doesn't suffer nearly as much with blurring and resolution loss as other budget LCD TVs.
Another positive surprise is the way the Finlux can combine well-saturated colours with a reasonably convincing black colour, even within a single frame. It's a pleasingly dynamic performance.
The 55S6040-M's most predictable shortcoming is the inconsistency of its backlighting, which finds dark scenes exhibiting patches of extra brightness, especially around the screen's edges. The TV also measures pretty high levels of input lag (making it problematic for console gaming); delivers rather soft-looking SD pictures; fails to produce much colour tone finesse to accompany the vibrancy; and sounds pretty flat and uninspiring.
Yet while the 55S6040-M comes with strings attached it's comfortably better overall than I would have expected for this money – and you can get a model with an HD Freeview tuner for £30 extra. Big screens no longer require big wallets...
---
HCC VERDICT
Finlux 55S6040-M
Price: £800 Approx
Highs: Large screen for little cash; good connectivity; decent motion handling
Lows: No online capability; lack of colour tone finesse; bland design
Performance: 3/5
Design: 3/5
Features: 3/5
Overall: 3/5
---
Specifications
3D: no
Full HD: yes 1,920 x 1,080
Freeview HD: no Freeview, analogue
Smart TV: no Not even an Ethernet jack
Connections: 4 x HDMI; 1 x component; 1 x D-Sub PC; 2 x USB ports; digital audio output
Sound: 2 x 12W
Dimensions (off stand): 1,307(w) x 40(d) x 778(h)mm
Weight (off stand): 31.5kg
Features: Edge LED system; 100Hz processing; video/music/photo playback from USB; True Black HDMI mode; SRS Surround; USB PVR functionality