Digging deep for diamonds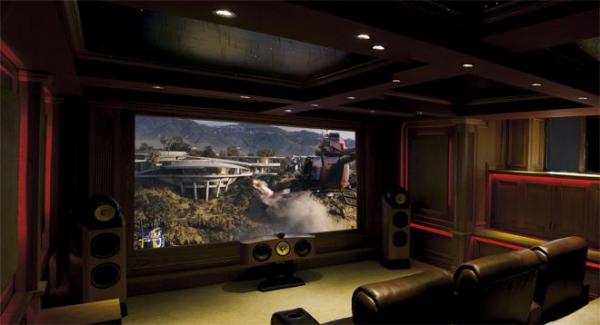 This converted cellar proves the perfect place for some high-end AV antics...
This subterranean cinema room, the work of ET Home Cinema from South Yorkshire, doesn't want to hide its light under a bushel - with the owner adamant that Bowers & Wilkins Diamond speakers were to be used for the front soundstage, there was little choice but to let these stunning-looking cabinets steal the show.
Because the owner didn't have a specific end-date in mind, the installation took six months in total from the initial site visits and 3D pre-visualisations to the final room EQ and hardware setup. A representative from Draper screens even went along to talk the owner through various material options, before he plumped for a Linea 2.7m Tab-Tension model.
And, with the room a two-hour drive from ET Home Cinema's Rotherham-based HQ, remote networking was added so any additional maintenance can be carried out immediately.
Chance to shine
With the speaker array (including a B&W DB1 subwoofer and CWM7.3 speakers) occupying the upper echelons of home cinema sound, acoustic treatment was imperative to give it the best chance to shine. Sonapanel HT acoustic panels were therefore installed, and a full sound calibration undertaken.
A THX-level calibration was also carried out to ensure optimum performance from the Panasonic projector, Oppo Blu-ray player and additional sources, including games consoles and Sky+HD. Hardware is housed in a 20u ventilated rack in a secondary room.
A particularly neat touch is reserved for the outer bar/foyer area. Here, a wall-mounted flatscreen TV mirrors whatever content is being displayed in the main cinema room, courtesy of a Wyrestorm HDMI splitter and Cat5 converter.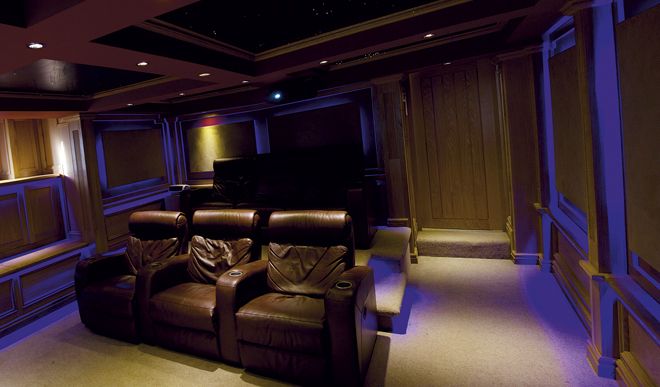 Land of leather
Seating-wise, there's space for six, each given a luxurious FrontRow leather cinema chair. These are arranged in a two-tier array, ensuring no one is having their view of the movie obscured. In their hazelnut finish these are a great match for the room's traditional décor - look at all that wood! - although the presence of ceiling-mounted fibre optics and smart-controlled strip-lighting both in the room and the bar gives this whole setup a 21st century feel. A quick dabble on the iPad or Control4 panel can usher in any lighting style the owner wants.
In fact, the sheer usability of the install is one of the things that has left a big impression. While the hi-fi and home cinema fanatic is naturally over-the-moon with the AV performance of the finished system, he seems equally thrilled by how it's controlled: 'The Control4 system added the finishing touch, pulling everything together in a user-friendly way. As you enter the room, the wall-mounted six-way switch with its programmed settings is virtually all you need, but the added functions on the iPad give complete control without half-a-dozen remotes!'
---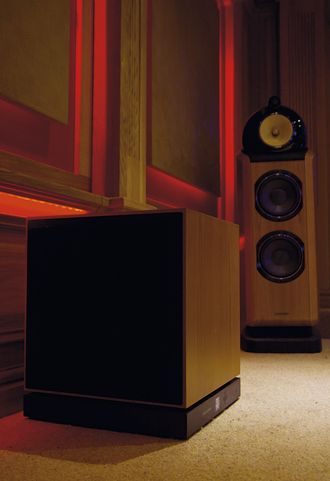 Kit list:
Panasonic: PT-AE4000 projector
Draper: Linea 2.7m Tab-Tension screen
Bowers & Wilkins: 802 Diamonds; HTM2D centre speaker; CWM7.3 ceiling speakers; DB1 Subwoofer
Sky: Sky+HD
Oppo: 3D Blu-ray player
Apple: Apple TV media player
Microsoft: Xbox 360
Sony: PlayStation 3
Wyrestorm: HDMI-Cat5 converter and splitter
FrontRow: 6 x home cinema seats
Control4: HC300 processor; SR250 remote control; wall-mounted keypad
Sonapanel: Acoustic panels
Price: £undisclosed
Installer: ET Home Cinema
---
Install info:
Lighting the way
Approximately 60m of Starscape RGB LED strip-lighting has been installed in the room, all tweaked by the Control4 system
Six of the best
FrontRow seating is arranged over two three-seater tiers. The Hazelnut Leather finish matches the room décor
Sound treatment
With reference-grade speakers in use, treating the room's acoustics with the help of wall-hung panels was vital
Ready to rumble
The HCC Award-winning Bowers & Wilkins DB1 subwoofer handles low-end duties. With its twin 12in drivers and 1000W of amplification, it's an ideal match for the Diamond floorstanders
Intermission
Via the use of a Wyrestorm HDMI splitter and Cat5 converter, a flatscreen TV in the outer bar area mirrors the content displayed on the Draper projector screen - so the owner doesn't have to pause his movies while topping up on drinks