The Curse of Frankenstein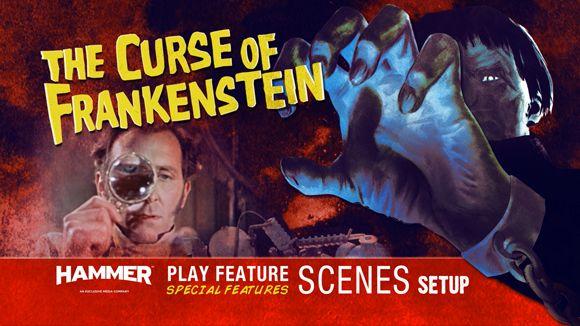 Please Sir, can we have some gore?
Hammer's first colour horror film might not be the most accurate screen adaptation of Frankenstein, but it certainly gets plenty of milage out of the story's gorier elements (even more so here with the restoration of the 'eyeball scene' trimmed by UK censors). Meanwhile Peter Cushing makes for the most splendidly rakish and driven Frankenstein, while Christopher Lee delivers an affecting performance as his brain-damaged, patchwork creation.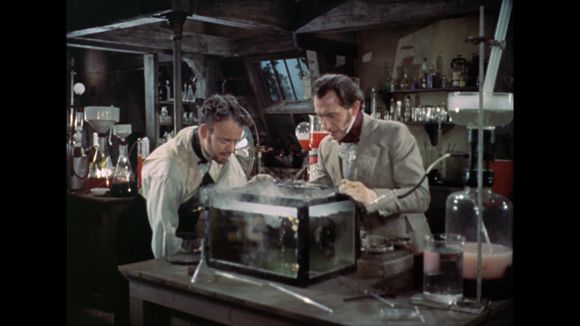 Picture: Hammer sparked a bit of controversy recently by showcasing their restoration of The Curse of Frankenstein with an Academy (1.33:1) ratio screening in London. Thankfully, while this is the default version on this Blu-ray release, a restored 1080p version framed at the alternative, and more convincing, 1.66:1 ratio is also included.
Compared to other recent Hammer restorations, the two AVC encodes are less immediately spectacular. The biggest issue is a lack of sharpness in many medium and long shots, although the detail in evident in close-ups (such as Cushing listening to a dog's heart in Chapter 2) indicate that this is a source-related issue. Likewise, while some colours look a little muted, the vivid reds in Frankenstein's laboratory leave you in no doubt that it's an accurate reflection of the original Eastmancolor photography.
Picture rating: 3.5/5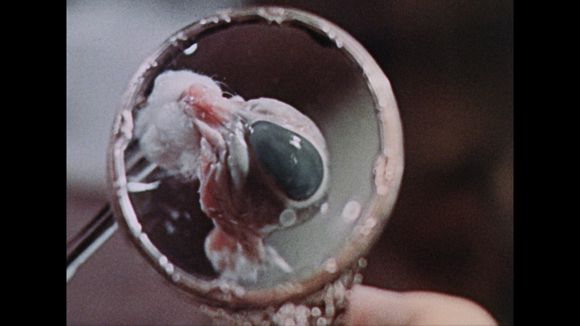 Audio: The film's LPCM 2.0 mono soundtrack holds up perfectly well given the age and limitations of the source material. While the dialogue and Foley effects are handled with aplomb, its the rich tonality of James Bernard's authoritative and discordant score that really leaves a lasting impression.
Audio rating: 3.5/5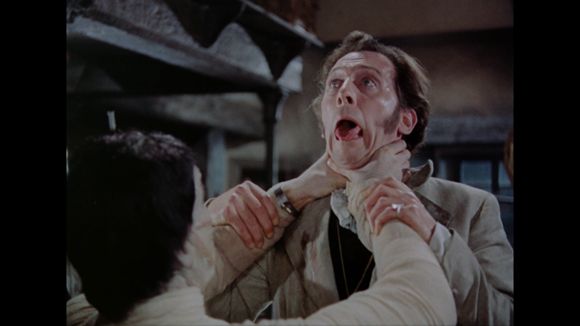 Extras: Hammer experts Marcus Hearn and Jonathan Rigby are on hand with an informative audio commentary, while a host of talking heads discuss the making of the film in the 33-min Frankenstein Reborn: The Making of a Hammer Classic. Elsewhere, Joyce Broughton, Peter Cushing's secretary, provides one of the disc's real highlights as she talks about relationship with the actor in the 12-min Life with Sir.
Also included are an episode of The World of Hammer, a photo gallery, the pilot episode for the abandoned Tales of Frankenstein TV series and the 1953 sci-fi flick Four Sided Triangle - although personally speaking I'd rather see even a less well-known Hammer titles such as this getting its own hi-def release, rather than being relegated to the status of a standard-def extra accompanying a more popular release. The set also includes a two-disc DVD edition, repeating all of the same extras.
Extras rating: 4/5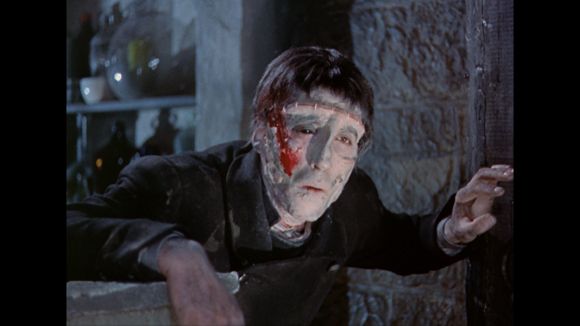 We say: Hammer's grisly horror classic hits Blu-ray with a bumper pack of quality bonus features
Lionsgate, Region B BD/R2 DVD, £25 Approx, On sale now
HCC VERDICT: 4/5