CES 2017: LG overhauls OLED TV range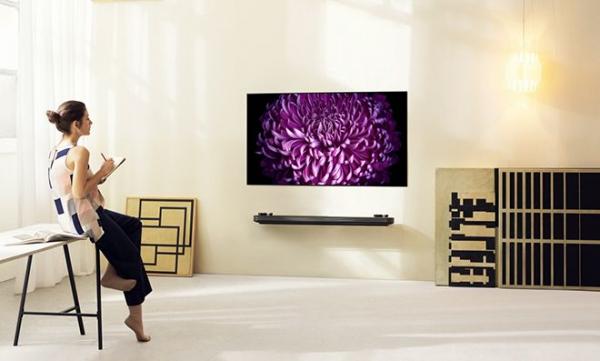 New models include Dolby Atmos as well as Dolby Vision support
LG is refreshing its OLED TV lineup in 2017 to include 10 separate models, and – in a world's first – introducing Dolby Atmos support via upfiring speaker drivers.
The new models are the flagship W7 (77in and 65in), which uses a 'Picture-on-Wall' design; the G7 (77in/65in) and E7 (65in/55in) Picture-on-Glass sets; and the 'blade-slim' C7 (65in/55in) and B7 (65in/77in) series.

The W7 has been designed to grab attention courtesy of its minimalist 'floating' design, with its 2.57mm-thin panel able to be mounted direct to a wall via magnetic brackets. The TV is joined by a speaker bar plinth stand with Atmos drivers. 'The design of the W7 series invites the illusion of gazing out a window, not of watching TV,' says LG hopefully.

Away from its design appeal, the set uses a 4K OLED panel which LG claims features brightness improvements via Ultra Luminance technology, while maintaining the perfect black performance trait that OLED is renowned for.
The W7 – as well as the other new models – also features something LG has dubbed Active HDR, which aims to improve images from HDR content featuring static metadata by 'inserting dynamic metadata where needed' on a frame-by-frame basis. Standard Dynamic Range content, meanwhile, can be treated to an HDR Effect makeover.
Anyone looking to futureproof themselves against HDR developments will be pleased to learn that LG's entire 2017 OLED lineup supports HDR 10, Dolby Vision and the broadcast-friendly Hybrid Log-Gamma. LG also says its screens are 'ready to support' the Advanced HDR format being cooked up by Technicolor, as well as employing Technicolor technologies and drawing upon its expertise to fine-tune image quality.

HDR 10 currently rules the roost when it comes to Ultra HD Blu-ray, yet LG is confident that Dolby Vision is a potential winner. 'Soon consumers will have access to Dolby Vision titles on Ultra HD Blu-ray disc, with anticipated availability in 2017,' says the Korean AV corp.
Expect the W7, G7, E7, B7 and C7 sets to land in the UK this Spring/Summer. Pricing has yet to be announced.