Canton Chrono CL Series loudspeaker review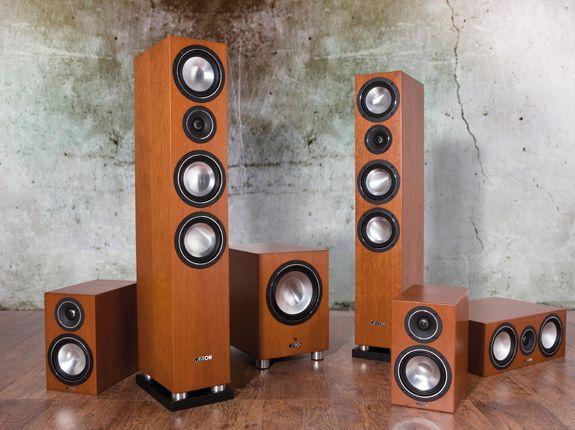 Mid-range magnificence
How good does a £3,600 system need to be to offer 'value for money'? Adam Rayner finds out
Never ever underestimate the ignorance of an AV journalist. We all like to think that we know our stuff, but, truthfully, we're all running to keep up with the new, all the time. You see, my knowledge of the German speaker market, and how big any one player was within it, has always been pretty minimal. While I knew about the Canton speaker brand, I still find a sardonic chuckle in the fact that it was another German company's PR firm over here who told me about the sheer size of Canton.
In the largest loudspeaker market in Europe, Canton has a whacking 40 per cent share, with the next two on 8 per cent each arguing as to which is the second biggest! So Canton must know what is doing.
Counting the cost
The Chrono CL system reviewed here is described as representing great value for money, yet still costs thirty-six hundred quid from UK distributor Computers Unlimited.
I had a pair of their second biggest Chrono CL towers, called the 580.2 DC, the CL555.2 centre, a pair of the CL 520.2 bookshelf designs for rear use and the Sub 85 for bass.
I also had the white paper about the Chrono CL series – a full technical brochure wherein Canton describes the technologies, the reasons for the clever stuff it does and what the results are. It makes for great bedtime reading, and there is clear evidence of some of the brand's very best ideas and wheezes filtering down from the lofty Reference series down to the mid-range Chrono CLs.
In brief, techno-wise, we have a highly evolved metal dome tweeter all round called ADT-25, with a silken fabric surround, in a neat shallow-dished housing. The main drivers are all Aluminium cones on super-extensible sinusoidal surrounds and the towers have down-firing ports loaded against their own plinths.
Meanwhile, the subwoofer, a 250W job with an 8.5in driver in its front, has another un-driven diaphragm underneath, to act as a passive radiator for the main drivers' bass notes' support.
The system looks lush in the Cherry finish and the grilles (even that of the subwoofer) are magnetically fixed using small Neodymium magnets instead of unsightly holes and posts. I for one cannot wait for the death of the pug-ugly 'Eelon' product that everybody used to have to employ to fix their grilles.
How low can you go?
I used some bass-heavy multichannel music to help set up the subwoofer (which has a fully sweepable phase control, rather than a simple flip switch – far superior for room/location tuning) and was impressed immediately. The subwoofer has great musicality – as well as the ability to drop deep because of the huge suspensions and passive radiator. Also, the technology Canton calls Displacement Control is used in the towers to enable their relatively small drivers to deliver more low-end than they ought to.
It's not just about the lows, of course. I could hear a reverb on the main vocal coming in great breathy detail from the rears that I hadn't noticed before. And the great high-frequency resolution all round gave a lovely edge to a drum stick tapping on the rim of a snare drum, or tinkling bells.
I then sat down to enjoy a new film in my collection, the cerebral sci-fi actioner Limitless. This flick benefits from the large investment put into its soundtrack, which use clever SFX to convey the two main states of its protagonist Eddie – basically, on drugs or off 'em.
The opening, with starts with Eddie on a balcony edge wondering whether to jump while baddies pound their way through his flat's front door. The impact and metallic clang of their bangs was frightening – for a small system in terms of face-space, the Chrono CL array offers a tremendous scale and sheer size of sound as well as an improbable amount of detail.
There are some who may find the sound a little cold rather than warm, with slightly antiseptic clarity and analytical projection. The imaging, while good, was still seemingly anchored to the boxes in my room.
The woofer lapped up Limitless' plentiful subsonics, and is an amazing performer for 'just' 250W. It can be made to unload and flap if you send it too low, though, so it'd be really cool to see one of these in a bigger size – a 12in, please! – as well.
On the other hand, you could step up to the bigger towers (the 590.D2s), have them all round the soundstage, and your world would be very potent indeed.
Seamless energy
Like the Vento system reviewed last year, this is yet another slice of audio excellence from Canton. The speakers have a seamless synergy with each other and a clean and clear output. I could hear every other table in diner scenes, and pick out every last piece of falling glass amongst the little car prangs that happen behind a pedestrian chase scene.
High performance, high fidelity and good-looking to boot. Maybe these are value for money after all...
---
HCC VERDICT
Canton Chrono CL Series
Price: £3,600 Approx
Highs: Incredible detail from the high-tech tweeters; rich bass end with melodic grip; classic looks
Lows: The character of the sound may be a bit high-frequency heavy for some
Performance: 4/5
Design: 4/5
Features: 4/5
Overall: 4/5
---
Specifications
Canton Chrono CL 580.2 DC towers
Drive Units: 2 x 6in Aluminium cone bass drivers; 1 x 6in Aluminium cone midrange and 1 x 1in Aluminium/Manganese dome tweeter with silk fabric surround
Enclosure: Three-way, down-firing, plinth-loaded port
Frequency Response: 66Hz-24.4kHz
Sensitivity: 87.5dB
Power Handling: 200W
Dimensions: 170(w) x 990(h) x 290(d)mm
Weight: 17Kg
Canton Chrono CL 555.2 centre channel
Drive Units: 2 x 6in Aluminium cone bass drivers (both get bass, only one gets mids as well); 1 x 1in Aluminium/Manganese dome tweeter with silk fabric surround
Enclosure: Two and a half-way, dual rear-ported
Frequency Response: 74Hz-24.4kHz
Sensitivity: 87.5dB
Power Handling: 140W
Dimensions: 455(w) x 170(h) x 310(d)mm Weight: 10.2Kg
Canton Chrono CL 520.2 rears
Drive Units: 1 x 6in Aluminium cone midrange and 1 x 1in Aluminium/Manganese dome tweeter with silk fabric surround Enclosure: Two-way, rear-ported
Frequency Response: 68Hz-4.4kHz
Sensitivity:Power Handling: 100W
Dimensions: 170(w) x 295(h) x 293(d)mm Weight: 5.7Kg
Canton Chrono Sub 85 subwoofer
Drive Unit: 1 x 8.5in Aluminium cone bass driver; 1 x 8.5in diaphragm as a passive radiator
Enclosure: Passive radiating
Frequency Response: 27Hz-155Hz
On board power: 250W
Dimensions: 275(w) x 385(h) x 400(d)mm Weight: 12Kg
Connections: Phono line-level input/ output; speaker-level input